What is a Spek?
A Spek is a bite-sized piece of custom knowledge. It can be used by your team to document any process, step-by-step walkthrough, or term in your company for easy access.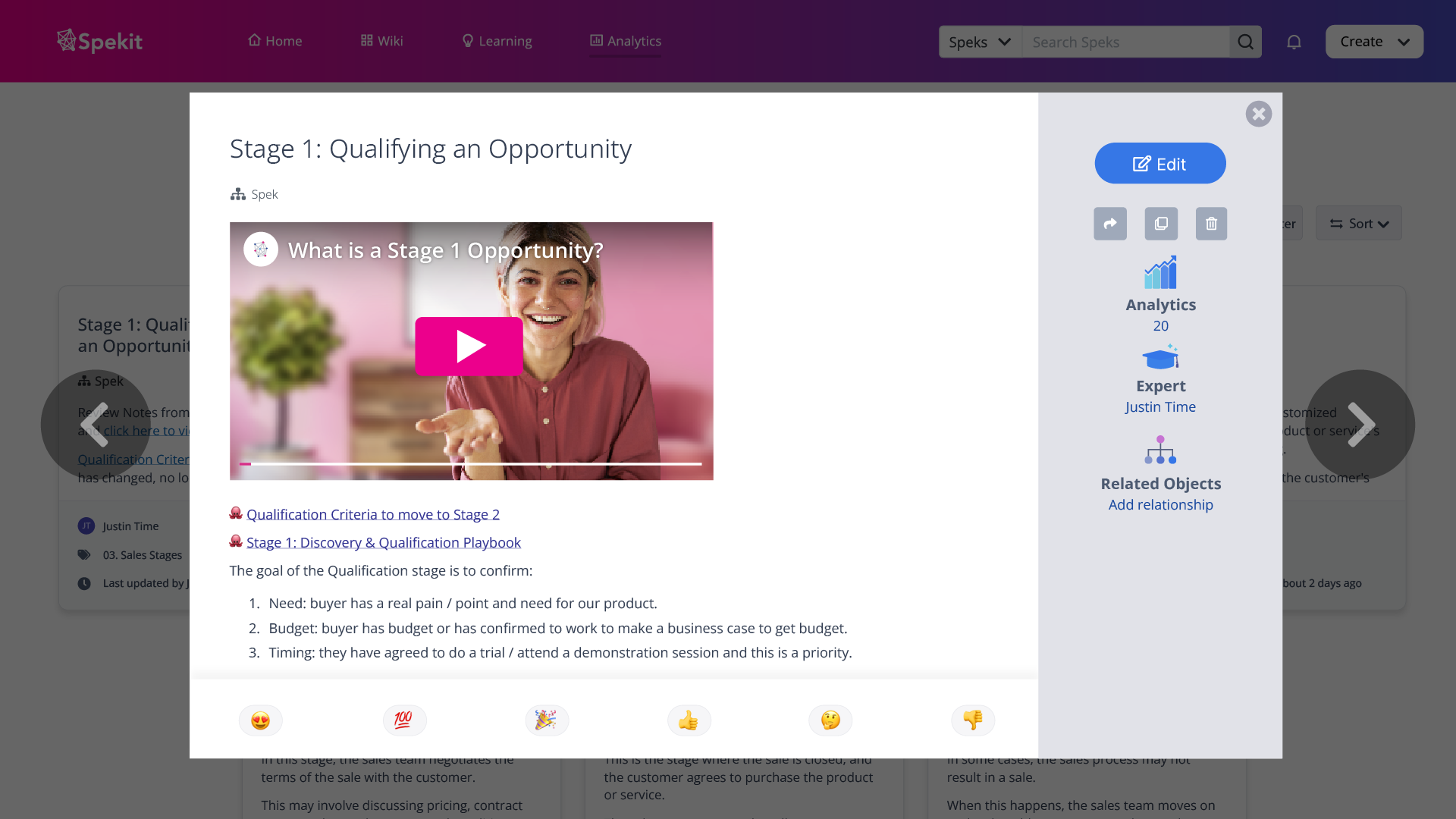 Who Can Create Speks?
To create Speks must have Account Admin, Team Admin, or Expert-level role in Spekit. Your admin can give you access on the User Management screen under Spekit Settings.
Understanding the Terminology and Settings on a Spek
Creating a Spek is as easy as writing an email with our what-you-see-is-what-you-get (WYSWYG) editor. Click here to learn more about our editor.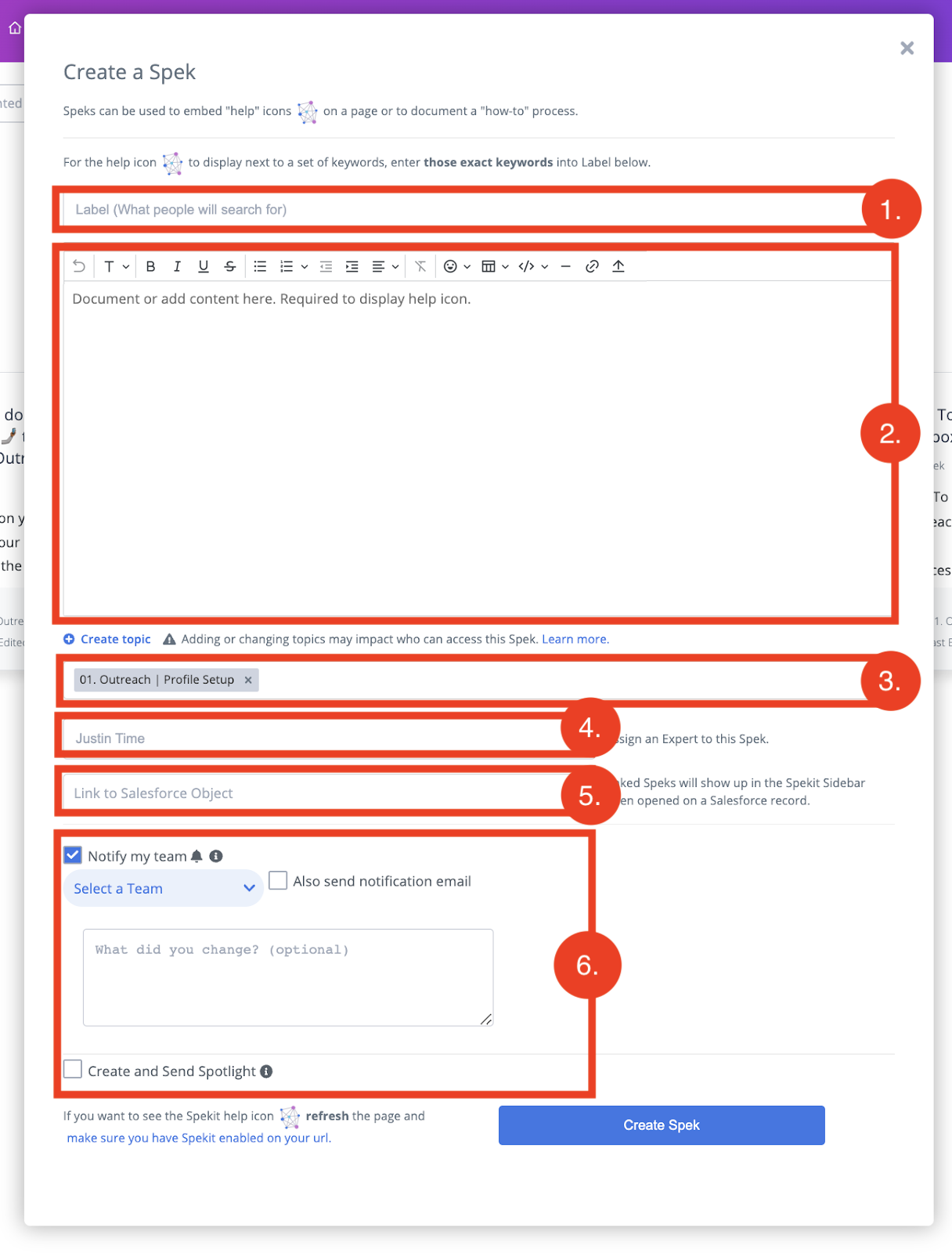 1.) Label: This is the name of the Spek. Make sure to name it what people will search for.
2.) Definition: This is the body of a Spek. You can add videos, text, images, hyperlinks, and more. Click here to learn how to use our rich text editor!
3.) Topics: Add the Spek to one or multiple topics to keep things organized.
Note: Once you add a Spek to a Topic, only users on teams with access to that topic will access it. You can edit which teams have access to that topic by editing your Topic settings.
4.) Expert: Assign yourself or a colleague as the subject-matter expert on this Spek. This person will be responsible for keeping it up to date.
5.) Link to Salesforce Object: Relate the Spek to a Salesforce object so that it shows up when you open the Spekit Sidebar on that Object.
Note: Salesforce objects available in the drop-down have to be imported by the Spekit Account Admin.
6.) Notify My Team: Check this box if you'd like to send a notification to your team that you have either created or edited the Spek in question. You can send a browser notification, email, or a Spotlight on this Spek. You can also add a message that goes along with your communication.
Note: Only teams with access to the Topics that the Spek is added to will show up in the drop-down.
To save your Spek, click Create Spek button.
You can edit any information at any point once the Spek is created. Click on the X in the corner to cancel out of the create box.
Different Types of Spek Formats
A "Spek" can come in 5 different formats at Spekit:
1.) A Spek that you can view from the Web App
2.) A Spek that you can view from the Sidebar
3.) A Spek that you can view from Slack
4.) An embedded Spek on a website
Each different variation of Speks has slightly different creation processes. However, all formatting and style best practices are the same.
1.) A Spek that you can view from the Web App
The Spekit Web App is your Spekit home base, where your content is housed and organized by Topic and Team Space.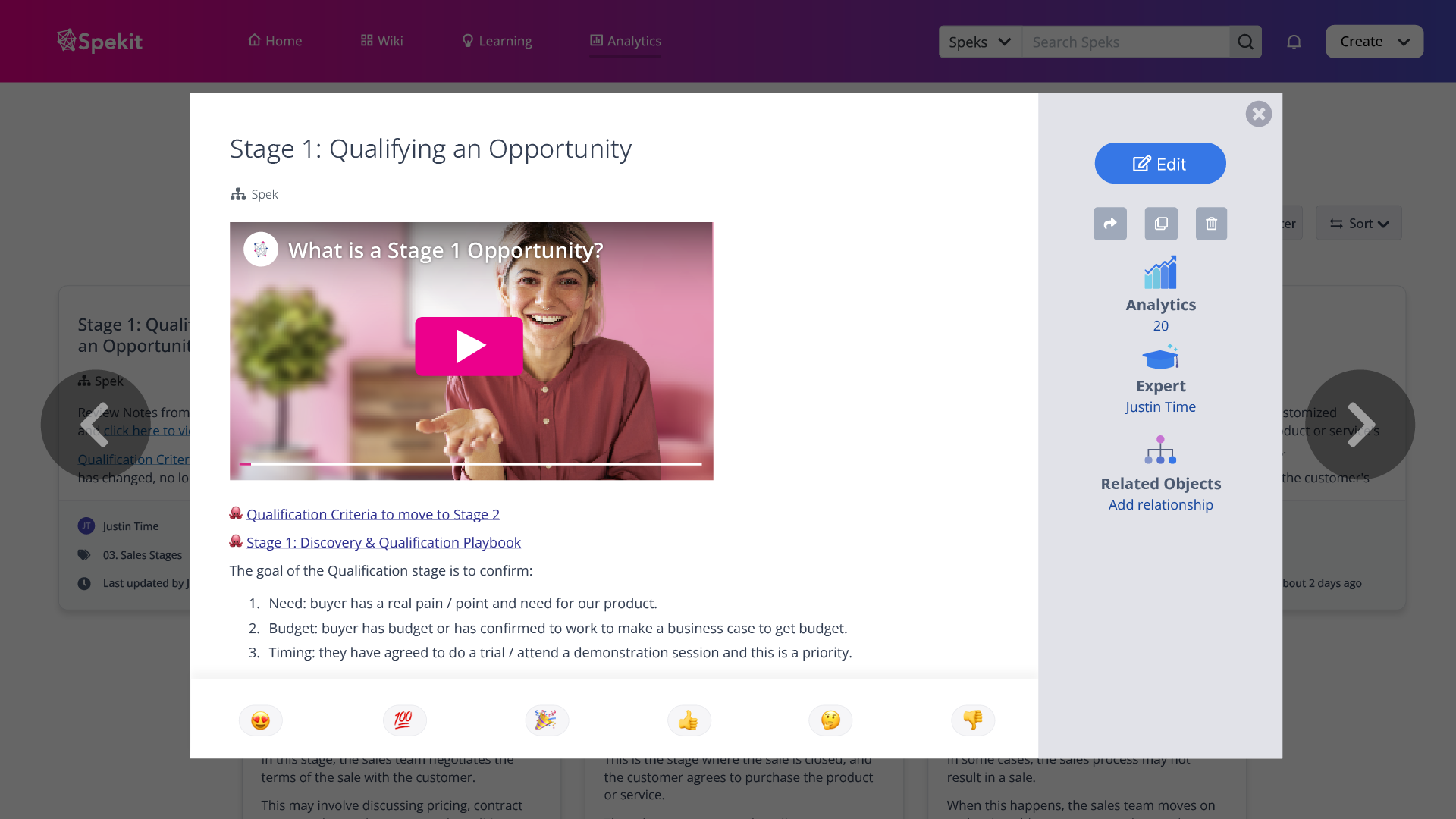 2.) A Spek that you can view from the Sidebar
The Sidebar allows all Spekit Users to interact with Spekit in web-based tools. This includes seeing embedded Speks on a page, searching for Speks, or participating in Knowledge Checks.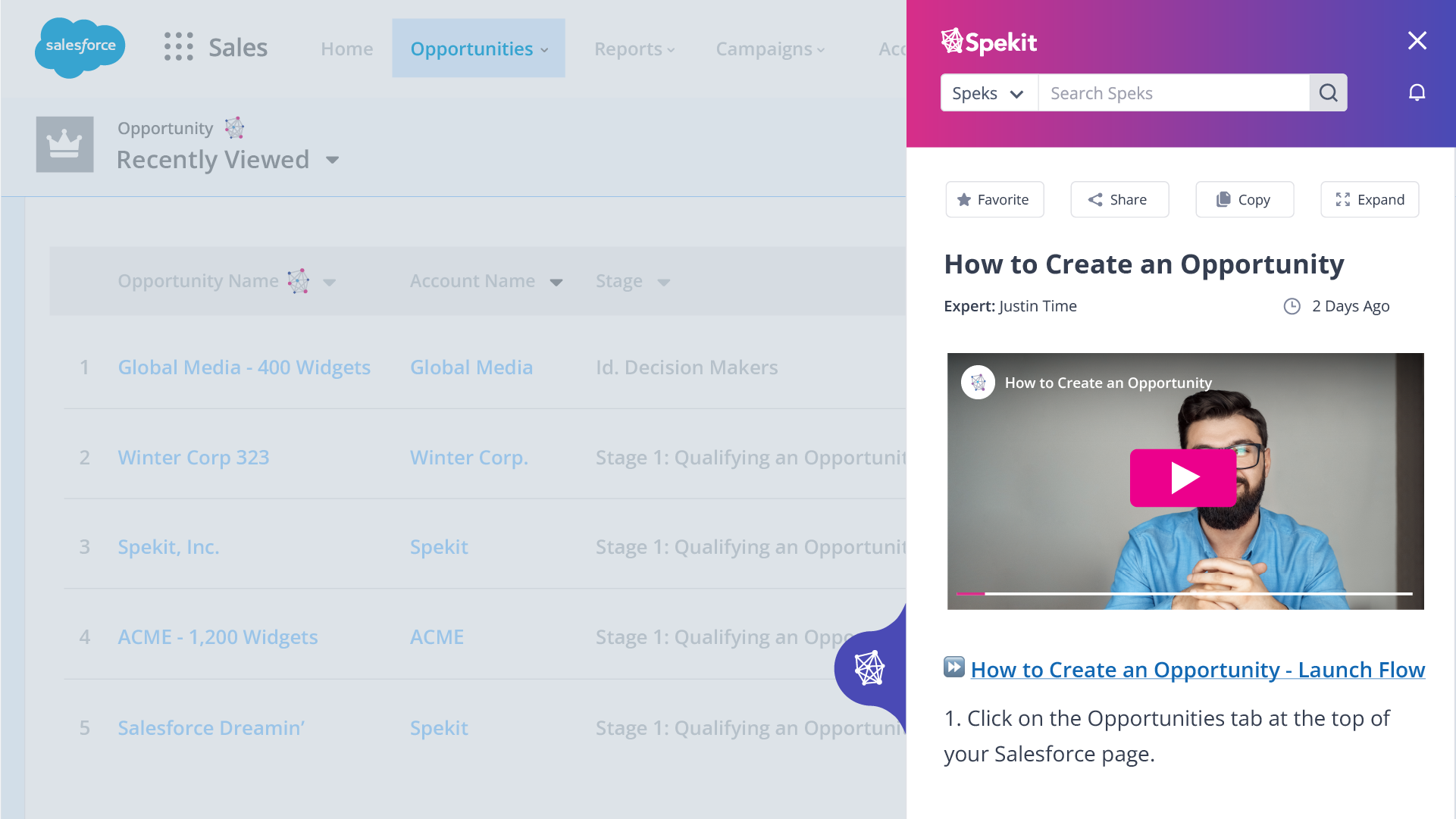 3.) A Spek that you can view from Slack
The Spekit Slack extension provides a way to engage teams in real time where the collaboration is happening.
Answer questions in Slack in seconds with the "/spekit" command, turn your slack responses into knowledge that lives forever, and search for an answer to a question with the "/spekit" command.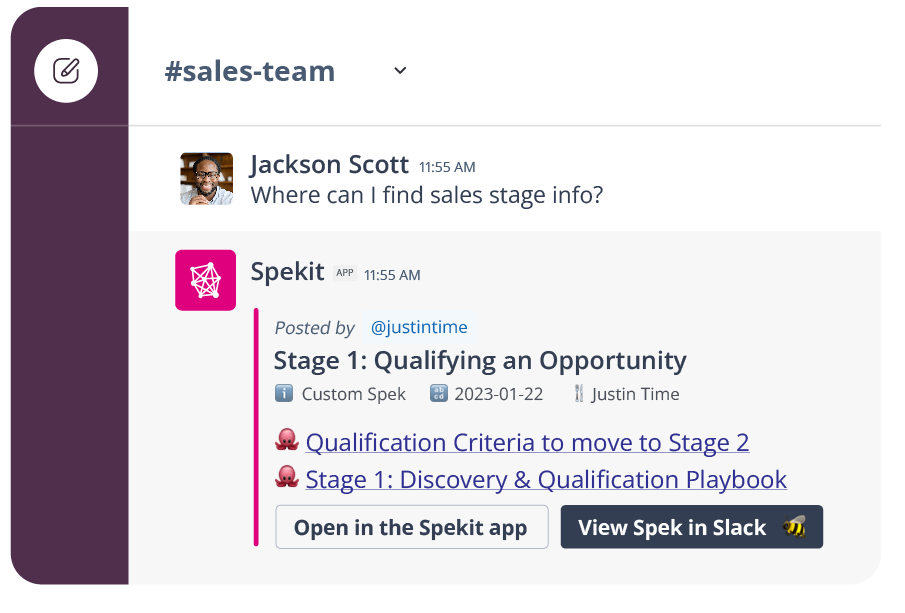 4.) An embedded Spek on a website
Embedded Speks are Speks that can appear on browser-enabled tools. These Speks are enabled by the Chrome Extension and are matched to the text.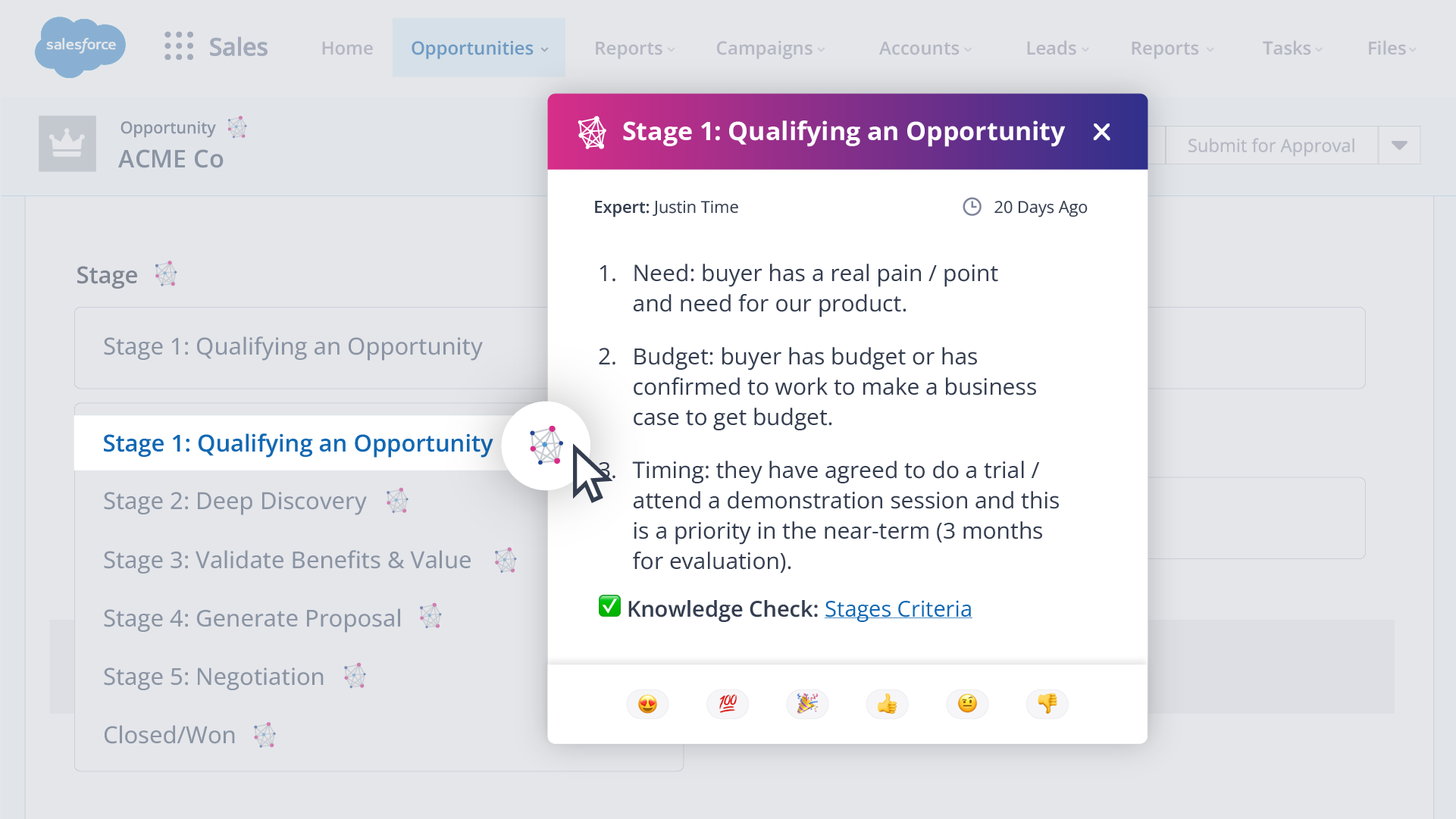 5.) Print a Spek to PDF
Print to PDF is beneficial when you prefer to provide employees with a hard copy to refer to or save to their desktops. This will provide you with a printable PDF format of the selected Speks.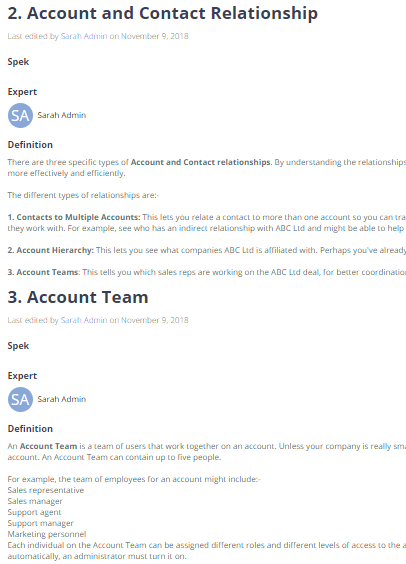 Related Articles