Learn how to create and manage Users and Teams in Okta. Ensure your company has set up the connection with Okta and you are logging in. You must have Account Admin-level access to manage Users in Okta.
How to create a Group in Okta and add people to it
From Okta Directory > Groups:
1.) Click to create the Groups for the People in your organization.
Example: Account Executives.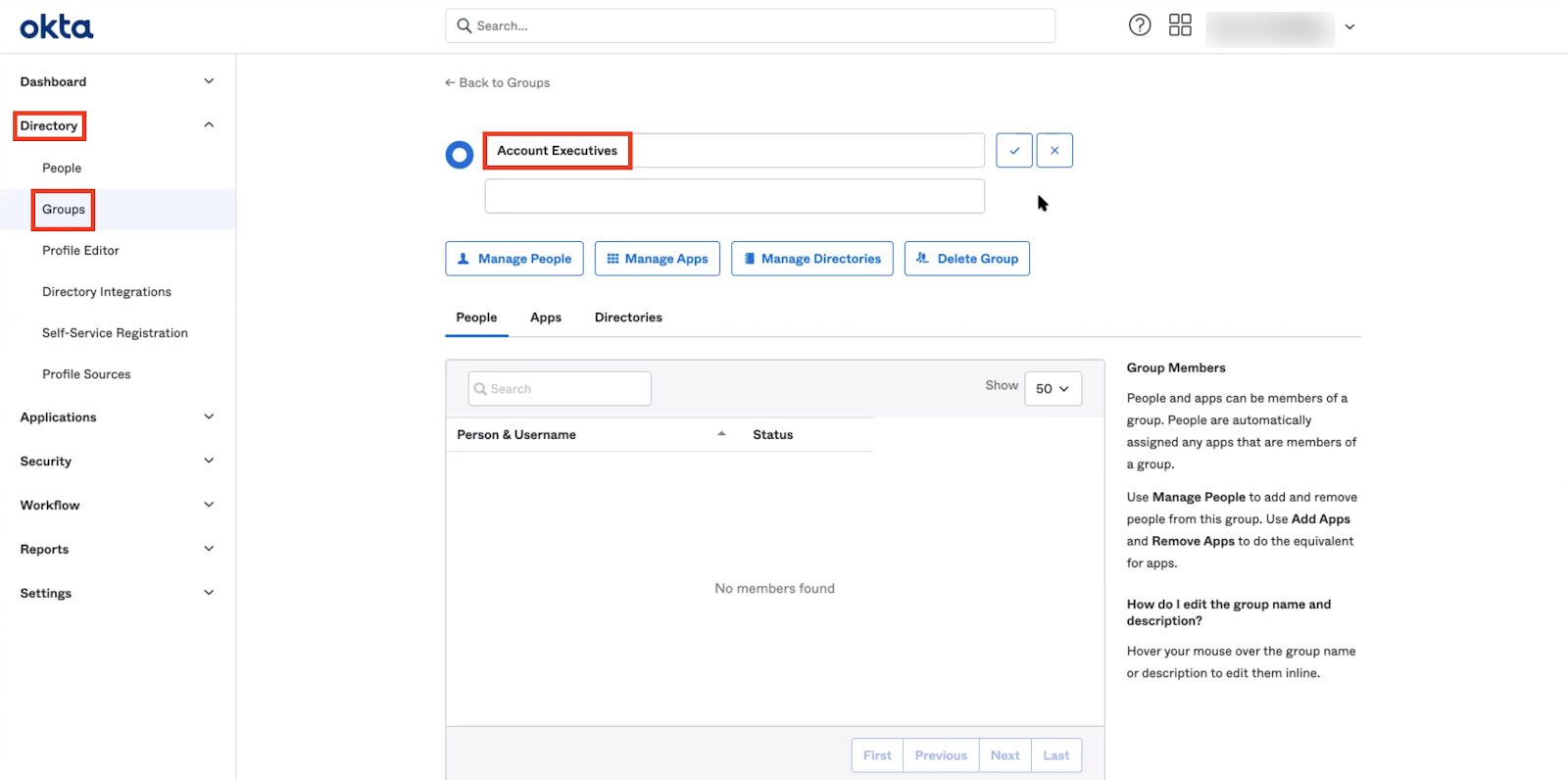 From Okta Directory > People:
1.) Click on each person to add them to the desired Group.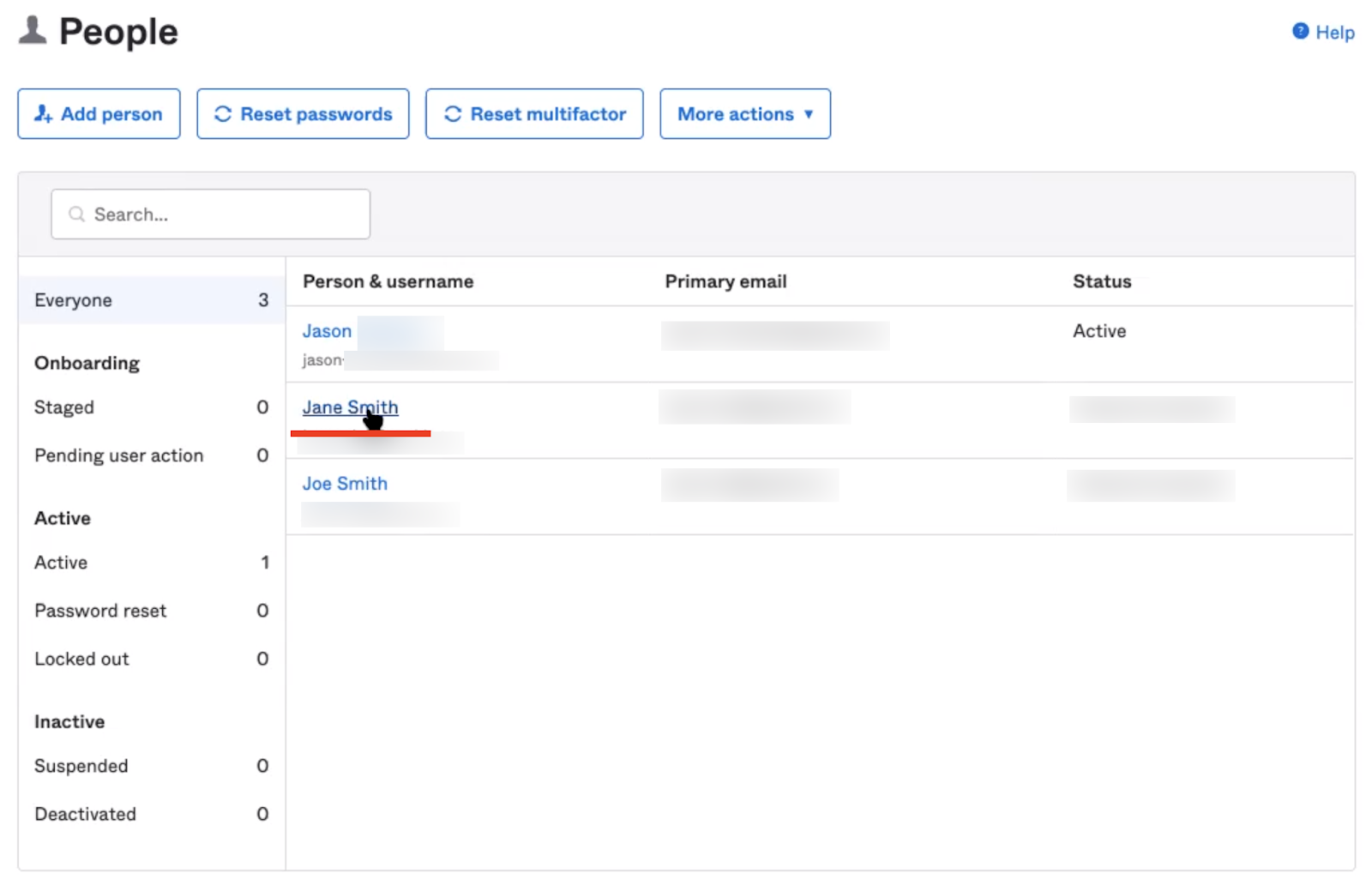 2.) Search for the name of the Group, and locate the correct Group.
3.) Click the Group name to add it.
Example: Account Executives.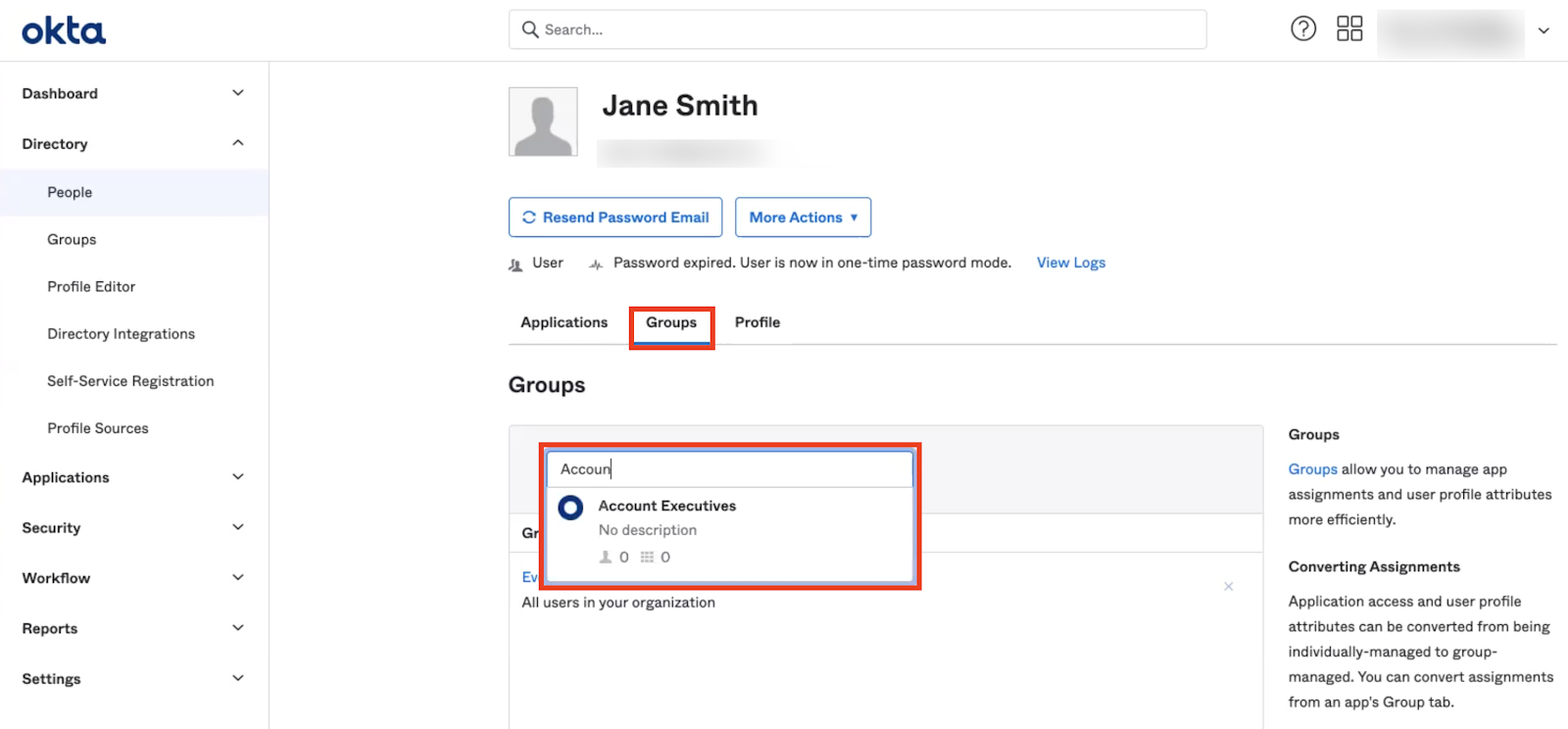 The Group you added the person to will now appear under the Group header.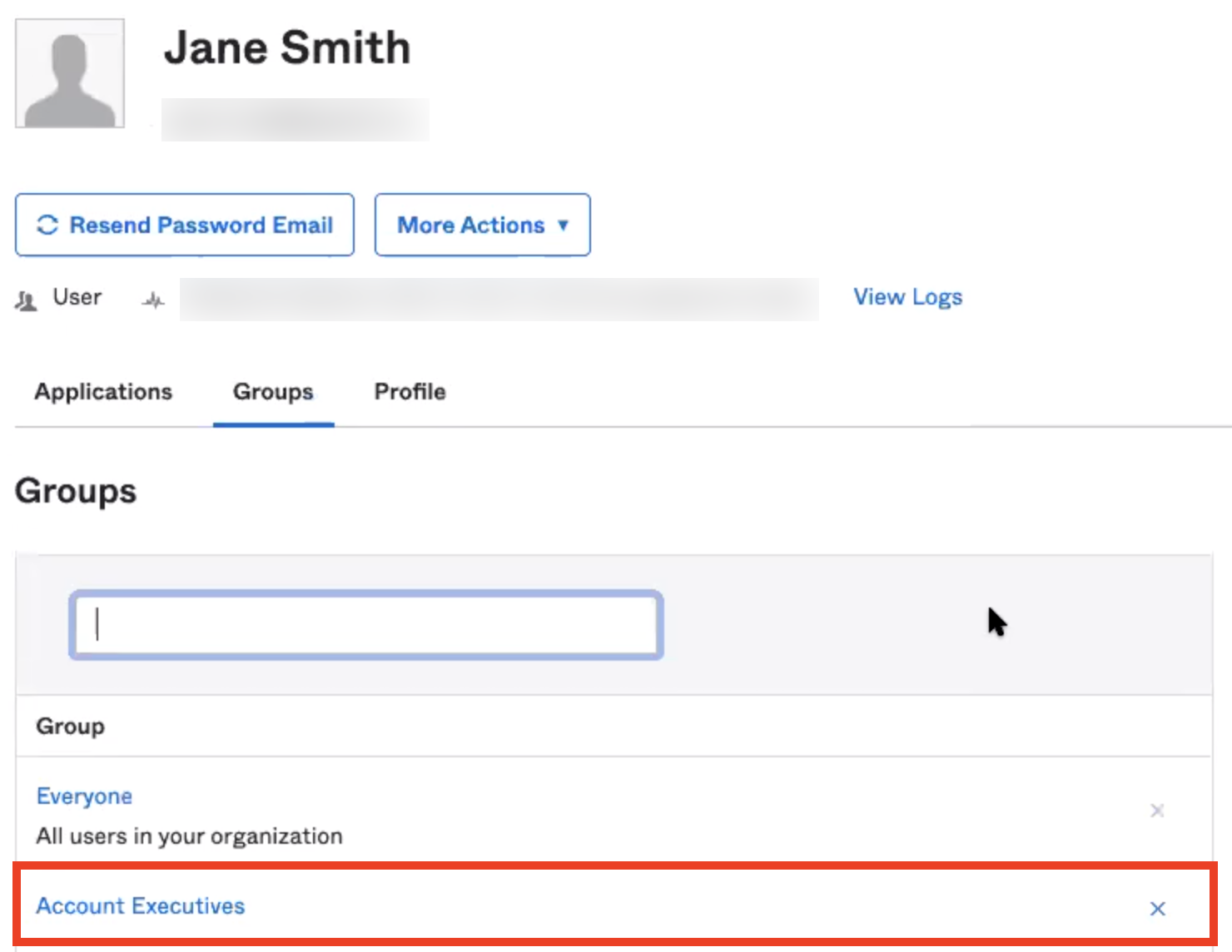 Will my users sync to Spekit from my IDP?
Yes. You can push users and groups via SCIM from your IDP to Spekit.

This will automatically create a user and Team in Spekit.

The sync process is a one-way sync.

It will only sync from your IDP to Spekit.
We do not support pushing users or teams from Spekit to your IDP.
Okta User Management FAQs
Can a user that's synced from an IDP be deleted?
How do I know who has SSO enabled?
An icon will indicate SSO users on the Manage Users screen.
Can new users be invited to Salesforce once an IDP is connected?
No, this functionality will be deactivated. But users can still be invited through Spekit.
How do new users get added to Spekit once IDP is integrated?
When IDP is first integrated, all IDP users get imported into Spekit (we'll do a 1-time manual sync to remove duplicates).
When new users are added to the IDP, they'll get an email inviting them to Spekit.
New users can also be invited to Spekit outside of the IDP, but they will not be connected to IDP.

Excel import:

Once a user uploads a file, users are locked and edited based on changes made to the sheet.

If they would like to edit it again, please contact support@spekit.co
Okta Teams FAQs
IDPs can have teams, and Spekit can have teams. What will happen to these teams when SSO/SCIM is connected?
IDP teams will be imported to Spekit.

A duplicate will be created if the IDP team has the same name as a team on Spekit. We'll also do a one-time manual migration to remove duplicates.

Renaming a team on IDP will reflect on Spekit. We will not allow admins to add a team named All Spekit Users and Spekit Acct admins.

Spekit teams will NOT be added to the IDP.
Okta users/groups - can a user belong to more than one group?
Yes, but their role will be viewer by default (regardless of what group they are in).
If a new team is made on IDP after the first sync, will the team be pushed?
Admin has to push the new team via their IDP, and then it will be created.
Will new teams created in Spekit be reflected in the IDP?
No. Teams in Spekit will not be added to the IDP.
Some of our clients have multiple accounts with us. How will this work with SSO?
We will only allow our customers to connect with their production account for SSO/SCIM.
Can teams that are in the IDP be edited in Spekit?
Teams in the IDP cannot be renamed or deleted in Spekit (because this information is in the IDP); however, the Admin can edit things like team description and team access in Spekit.
How will the admin know which teams are connected to IDP and which are only in Spekit?
There will be an icon wherever an IDP team is shown (Manage teams, drop-downs, etc.).
Can Spekit users be added to teams that are in the IDP?
No. To be added to an IDP team, the Viewer needs to be in the IDP and added through the IDP.

These teams will still be listed in the team selection dropdown but will be disabled and have an IDP icon next to them.
How can you remove a team on Spekit?
We only allow you to remove a Spekit team via the Spekit app. We don't allow you to delete a team via IDP yet.
Can there be teams in Spekit that aren't in IDP?
Yes, teams created in Spekit will not transfer into IDP.
How long will it take to transfer information from IDP to Spekit? (initial sync and post-initial sync)?
Normally between 10-15 seconds.
How will we avoid duplications for existing accounts that have Salesforce and Spekit accounts?
Admins need to download an excel sheet to confirm users are mapped correctly and re-upload to complete the migration and connect SSO/SCIM.
How do I change my role for my IDP?
Admin can change roles from the Manage teams page when selecting an individual user.
Related Articles: