Learn how to use the search feature in Spekit. Search results may vary based on your access level.
Key Features of Search
Ordering of Search Results
Results are now primarily ordered by label and then by definition.
The definition is truncated to the first 40,000 characters to provide concise results.

For administrators using "Tags" within the body of their Spek, it's recommended to prioritize tags at the beginning of the Spek or in the title due to RTE code constraints.
Searchable Content
With searchable content, we've enhanced your search capabilities:
You can now search for Speks, Spotlights, Flows, Knowledge Checks, and Topics.

Viewers can only see Speks, Flows, Knowledge Checks, and Topics. They will not be able to search for Spotlights.

Content creators have the ability to select and edit objects directly from the search results.

When you search in Spekit you will be able to see the Topic a Spek belongs to as well as the first line of the Spek/Topic: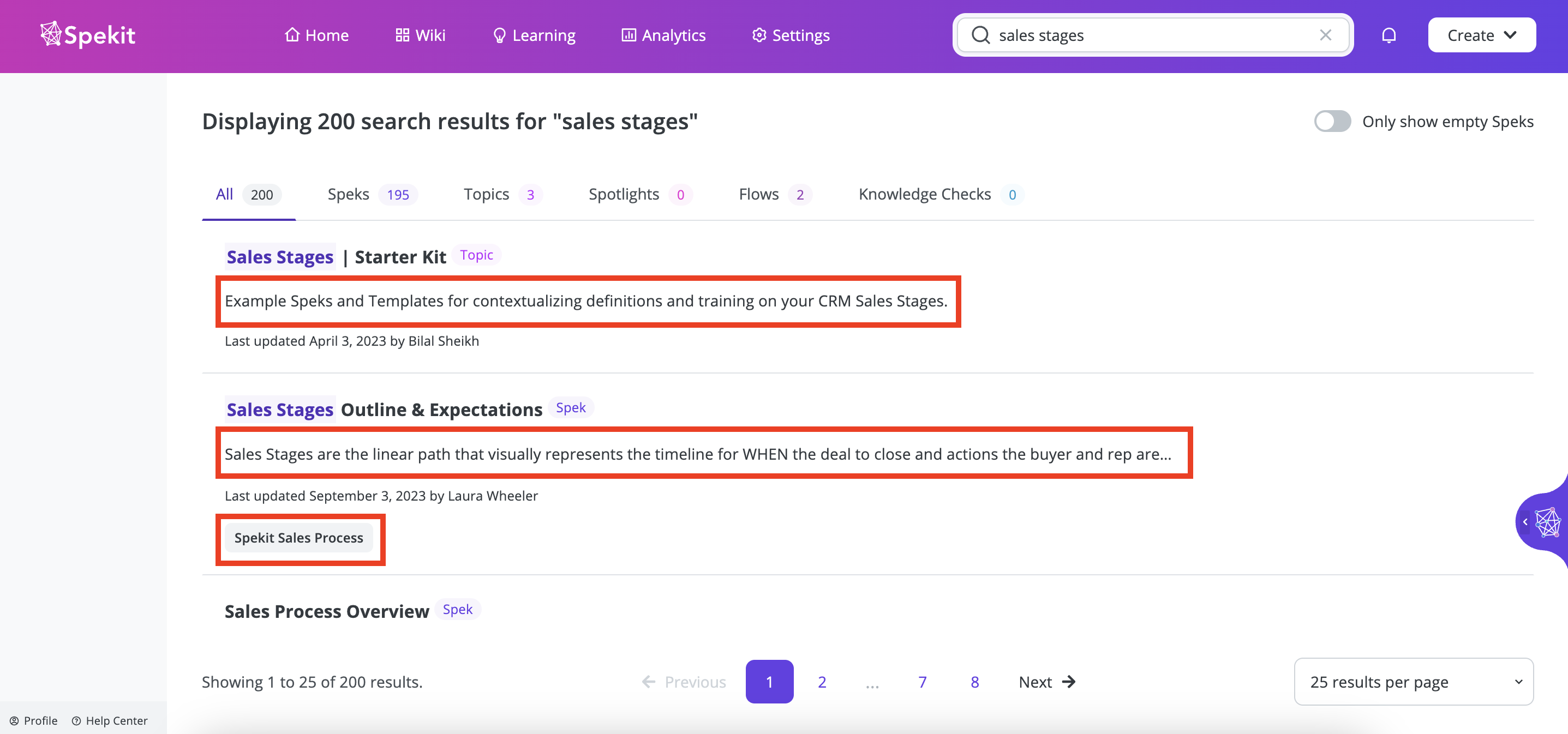 Returning to Search Results
There's a slight adjustment to how you return to search results:
In the web application, simply press the back button to return to your search results.

In the extension, you won't be able to directly return to the search results. However, you can re-run the search by clicking on the search icon.
Filters and Sort
Please note that filters and sorting options will be disabled on the search results page. However, you can still use filters and sorting on the wiki page and the data dictionary view.
AI Synonyms
With AI synonyms we've improved your search experience:
If users rewrite search queries, Algolia ML models will generate synonyms.

Once approved by Spekit, these synonyms will be available for all organizations and users.

Currently, the following synonyms are available:

intro ↔ introduction

conversion ↔ convert

Client ↔ customer

holiday ↔ vacation
Empty Speks
Admins will still see Empty, previously known as undocumented Speks, and hidden Speks in search results. The following icon will appear if a Spek is hidden:

You will be able only see empty Speks by swithing on the following toggle:

Understanding Search Relevance
For those interested in the technical aspects of search relevancy, here are some key points:
Typos: Experiment with intentional misspellings and provide feedback to help us refine search results.
Word Proximity: Search terms can be close together for more accurate results. For example, "Spekit is Iconic" can still be found with a search for "Spekit Iconic."
Singular vs. Plural: Singular and plural forms of words are now considered during searches.
Ranking: The ranking of Speks is based on how closely they match the typed keyword. Higher matches result in higher positioning on the page.
How to Search the Data Dictionary
1.) Navigate to the Web App.
2.) Select the Wiki tab.
3.) Choose Speks and then Dictionary mode.
4.) Use the Search in data dictionary bar to find specific terms.

NOTE: The Data Dictionary Search Bar is specific to Speks, title, and body. While the Universal Search Bar includes all Spekit content, is powered by Algolia, and is available to all users.
How to Optimize a Spek's Searchability
To create Speks in a way that optimizes searchability and helps users find them easily, you should consider the following strategies:
Clear and Relevant Names: Ensure that the names you assign to your Speks accurately represent their content. Use concise and descriptive names that reflect the core topic or subject matter of the Spek.

Prioritize Important Keywords: Since search results are ordered primarily by name and then by definition, make sure to incorporate essential keywords in both the name and the initial part of the definition. This increases the chances of your Speks appearing in relevant searches.

Use Tags Wisely: If you use "Tags" within the body of your Spek, consider placing them at the beginning of the Spek or in the title. This is important because the definition is truncated to the first 40,000 characters, and placing tags at the start ensures they're more likely to be seen.

Consistent and Relevant Content: Create Speks with accurate and consistent content. This helps improve their relevance to search queries. The more closely a Spek matches the user's search terms, the higher it will rank in the search results.

Leverage Synonyms: With the AI synonyms feature enabled, take advantage of synonyms to expand the reach of your Speks. Consider incorporating synonyms of key terms to ensure your content is accessible even when users use different terminology.

Include Important Details Early: Place crucial information and key details near the beginning of your Spek's definition. Since the definition is truncated, having important content upfront increases the chances of it being seen in search results.

Utilize Spotlights: Use Spotlights to highlight critical information or key concepts within your Speks. This can help users quickly identify relevant Speks and understand their content at a glance.

Encourage Feedback: Encourage users to provide feedback if they encounter issues while searching. This could include instances where they don't get the expected results or experience abnormalities. This feedback can be invaluable for refining the search functionality.

Test Different Search Queries: Experiment with various search queries to understand how your Speks are being ranked and displayed. This can give you insights into how users might be searching for your content and help you fine-tune your labeling and content creation.

Stay Informed: Keep yourself updated on any changes or improvements in the search functionality. This way, you can adapt your Spek creation strategies to align with the evolving search algorithms.
By implementing these strategies, you can enhance the searchability of your Speks and provide a more efficient and effective experience for users looking for specific content within Spekit.
Improving Your Search Experience with Spekit & Algolia Integration
The Spekit and Algolia integration is designed to enhance your search experience and make finding the content you need more accessible than ever.
Our goal is to address issues related to typos, ranking, synonyms, and the overall presentation of search results, ensuring that you can efficiently locate the information you're looking for.