Show me later (aka show again in 24 hours")
The
Spotlight
will go away and be presented again in 24 hours to the user
After 24 hours we will show the
Spotlight
again only when:
User meets the targeting rules
(Even if the Audience rules have changed since then)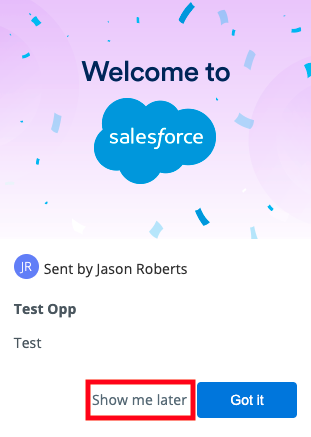 Example
: A
Spotlight
is created with
Audience = Sales team users
A Sales team member sees Spotlight and clicks "
Show me later
"
Spekit will snooze it for 24 hours.
In those 24 hours - let's say the user is removed from the Sales team
However, since the user has seen it already the Spotlight will STILL trigger for the user
What happens if the user does not interact with the Spotlight all?
If the user doesn't interact with the Spotlight, the prompt will be shown to the user again.
Can I control how often the Spotlight shows up for a user?
No - Spotlights will show up ONLY once per user until they engage with it
How many times can a user choose to "Show me later" on a Spotlight?
Unlimited times until engaged
You can monitor this via analytics