Extend the benefits of the Spekit Dictionary to other parts of your business by adding custom columns (company specific information) to existing fields, objects, or other metadata in your Dictionary.
In other words, it's a streamlined way to extend the benefits of the Spekit Dictionary to other parts of your business.
Here are some use cases to get you started:
Source:

Do you struggle to figure out how a particular field is populated? Create a column to store the original source of that data, ex: Is it from a website sign-up form or is it manually entered data?

Mappings:

Store mappings between Salesforce API names and other internal databases or system API names to make it easier for anyone in your company to work on a report or integration.

GDPR compliance:

Keep track of which fields or objects in your Salesforce org store personal data.

External Links:

Add links to external documentation related to your metadata at the field, picklist, or object-level, ex: Training modules in Trailhead, and tickets in JIRA/Confluence or Cases.

Custom definitions by team:

Store relevant info catering to different audiences, ex: a "Retail Sales Definition" column.

Synonyms:

Do you use certain terms interchangeably? Add a column for synonyms so that Spekit can easily pull up matches regardless of what term the user searched.
To create Custom Columns in Spekit:
- From the Spekit WebApp
1 ) Go to Settings> Admin > Create Metadata Column
2 ) Click on Create Metadata Column

3 ) Enter the name of the custom column you're creating and select the Spek types the column should apply to by clicking on the checkbox
For example, do you want the custom column data to show up along with the definition of a field or do you want it to display only with custom Speks you create?
4 ) Click on Add new column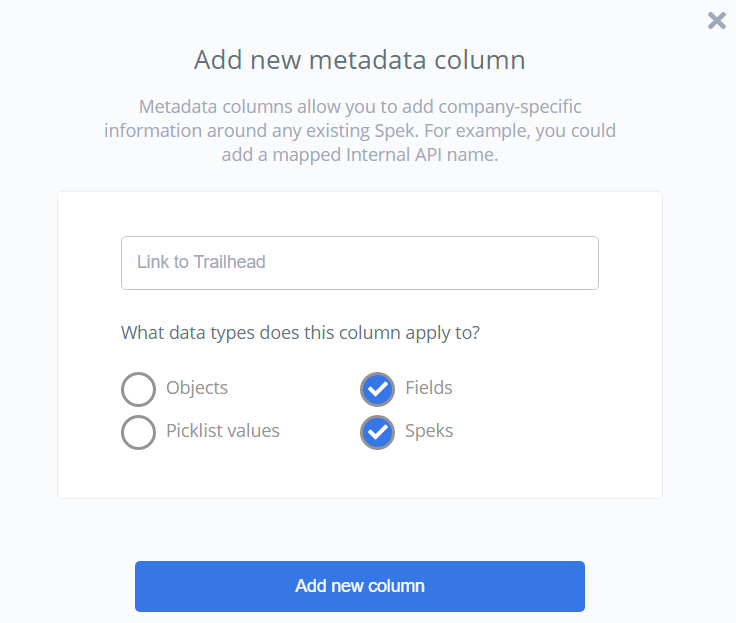 You can view this in the Metadata section in the expanded view of any data type that the custom column applies to as shown below. Expiration date and Jira Ticket are examples of custom columns created in Spekit.