In this article, you will find
New Features
Re-Ordering Speks within a Topic
RELEASED: SEPTEMBER 1, 2023
Organization is key when it comes to content, and that extends all the way down to how you order Speks in a Topic.
Now, all it takes to order (or reorder) Speks in a Topic is a simple drag and drop. In the Web App, you'll:
Click and hold on the Spek you want to move

Place the Spek in the desired location, and then unclick

Hit the "Save changes" button in the upper right corner
And voila! The updated order will now be shown by default in both the Web App and the Extension.
Click here to learn more about reordering Speks within a Topic.
Spotlight History
RELEASED: SEPTEMBER 7, 2023
Want to check out a Spotlight you already reviewed — or snoozed until tomorrow? Now when you receive a Spotlight, you'll also get a notification about it in your notification center.
As long as the Spotlight hasn't expired, you can view it by clicking into the notification — even if you previously reviewed or snoozed it.
Click here to learn more about Notifications in Spekit.
Enhancements
Improved Search Experience
RELEASED: SEPTEMBER 1, 2023
Search across all your Spekit content at once with our new universal search experience.
With our new search experience, you can search all of your Spekit content simultaneously. Here's how it works:
Enter a term in the search bar (whether in the extension or the Web App)

Spekit will deliver a single results page with all matching Spekit content

Review the consolidated results by selecting the "All" tab, or by content type by selecting one of the content tabs.
We also upgraded the search functionality on the backend to improve how results are ranked, introduced a new search bar for the Data Dictionary, and more.
Click here to learn more about our Search improvements.
Show Empty Speks in Search
RELEASED: SEPTEMBER 18, 2023
When searching Spekit, you will now see a toggle button for empty Speks. This toggle button is designed for Admins and Experts, which allows them to choose whether to display empty Speks or not. For Viewers, this toggle will remain hidden.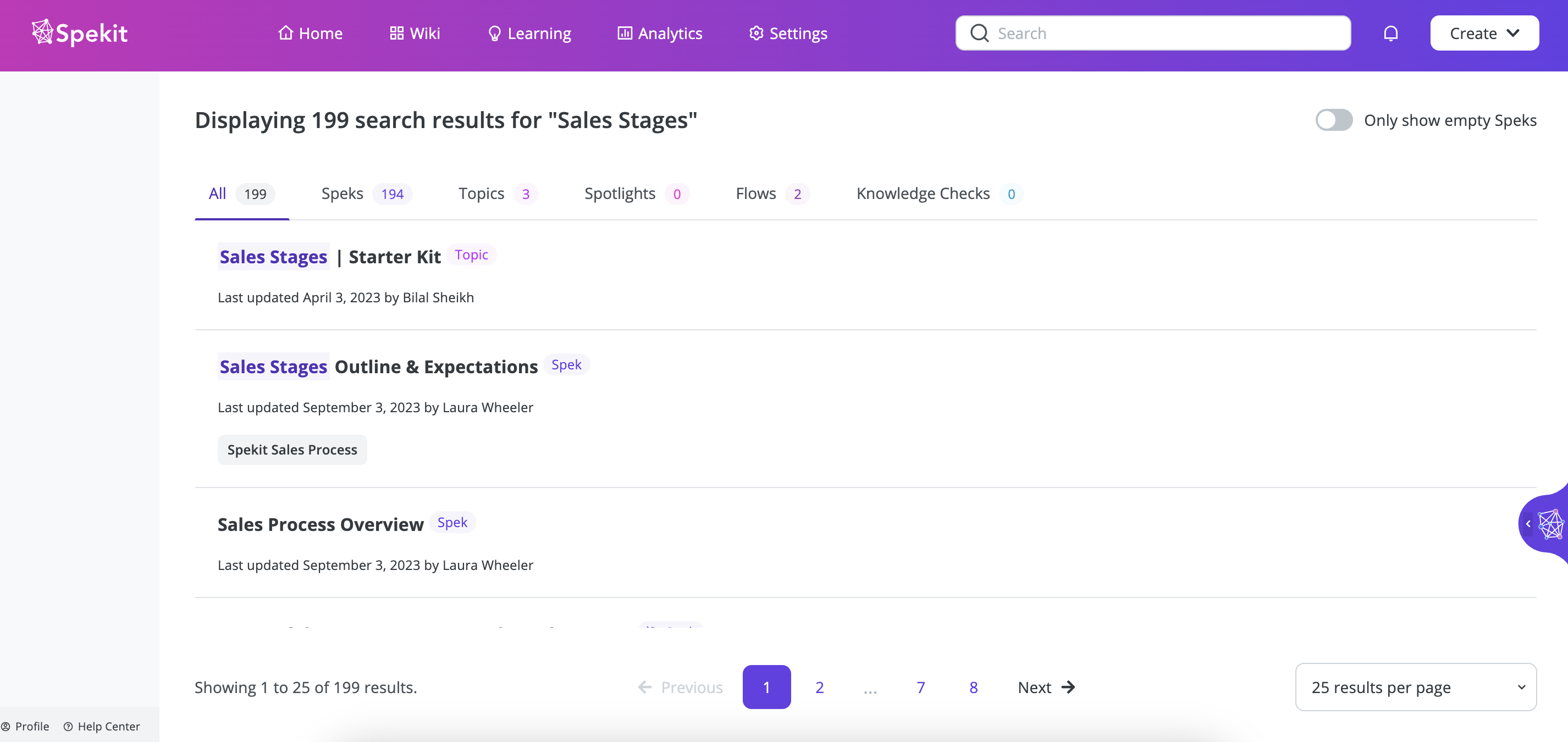 NOTE: By default, this option is turned off, preventing Admins and Experts from being overwhelmed by empty Speks during their searches. However, it becomes easily accessible when they're specifically looking for an empty Spek while in writing mode.
Enhanced Assign an Expert Email Notification
RELEASED: SEPTEMBER 19, 2023
We've enhanced the user interface for the Assign an Expert email notification.
Additional Spotlight Status
RELEASED: SEPTEMBER 20, 2023
We've added a new status Expired. This status will make it visually clear what status a Spotlight has. For Admins, this improvement will make managing Spotlights easier!

Search Topics and Descriptions
RELEASED: SEPTEMBER 20, 2023
Easily find the content you are looking for when searching with the new Topic and description feature. Now, when you search in Spekit you will be able to see the Topic a Spek belongs to as well as the first line of the Spek/Topic.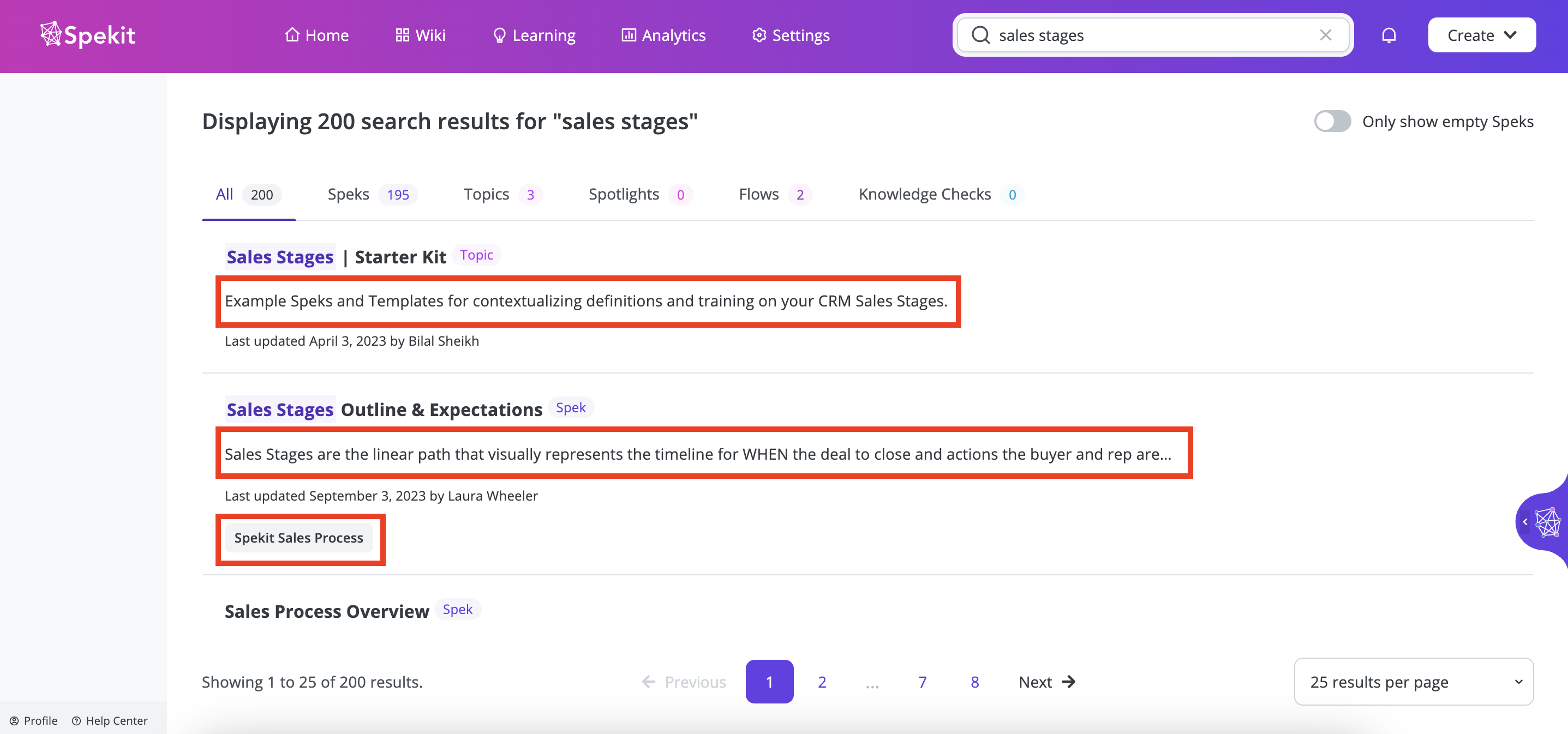 Descriptions will appear directly under the content title, and the Topic will appear under the last updated date.
Click here to learn more about our Search improvements.
Upgraded Spek Create and View UI
RELEASED: SEPTEMBER 20, 2023
We've just introduced two exciting improvements to the Spek Create and View on the Spekit Web App and Chrome Extension. This is a refresh on the create and clone Spek experience, making it easier than ever to create Speks.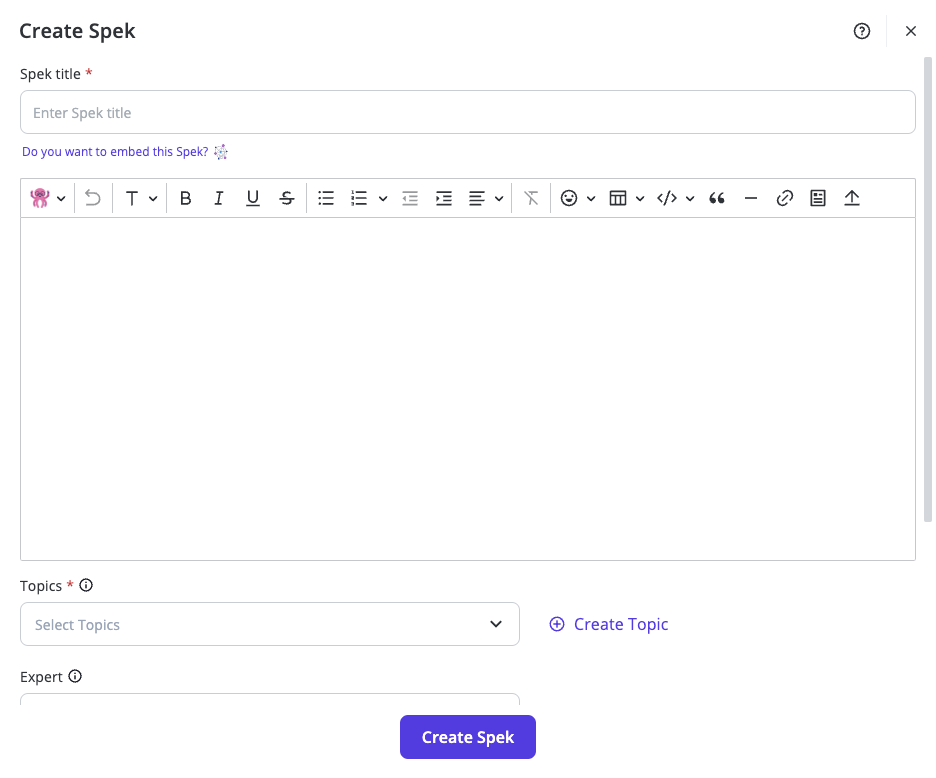 Improved Card View of Speks in Topics
RELEASED: SEPTEMBER 28, 2023
Our product team has been hard at work making improvements to the card view for Speks. We're excited to share that the new card view Spek improvements are now live.
Now, when you go into a Topic, you will see the fresh card view for Speks.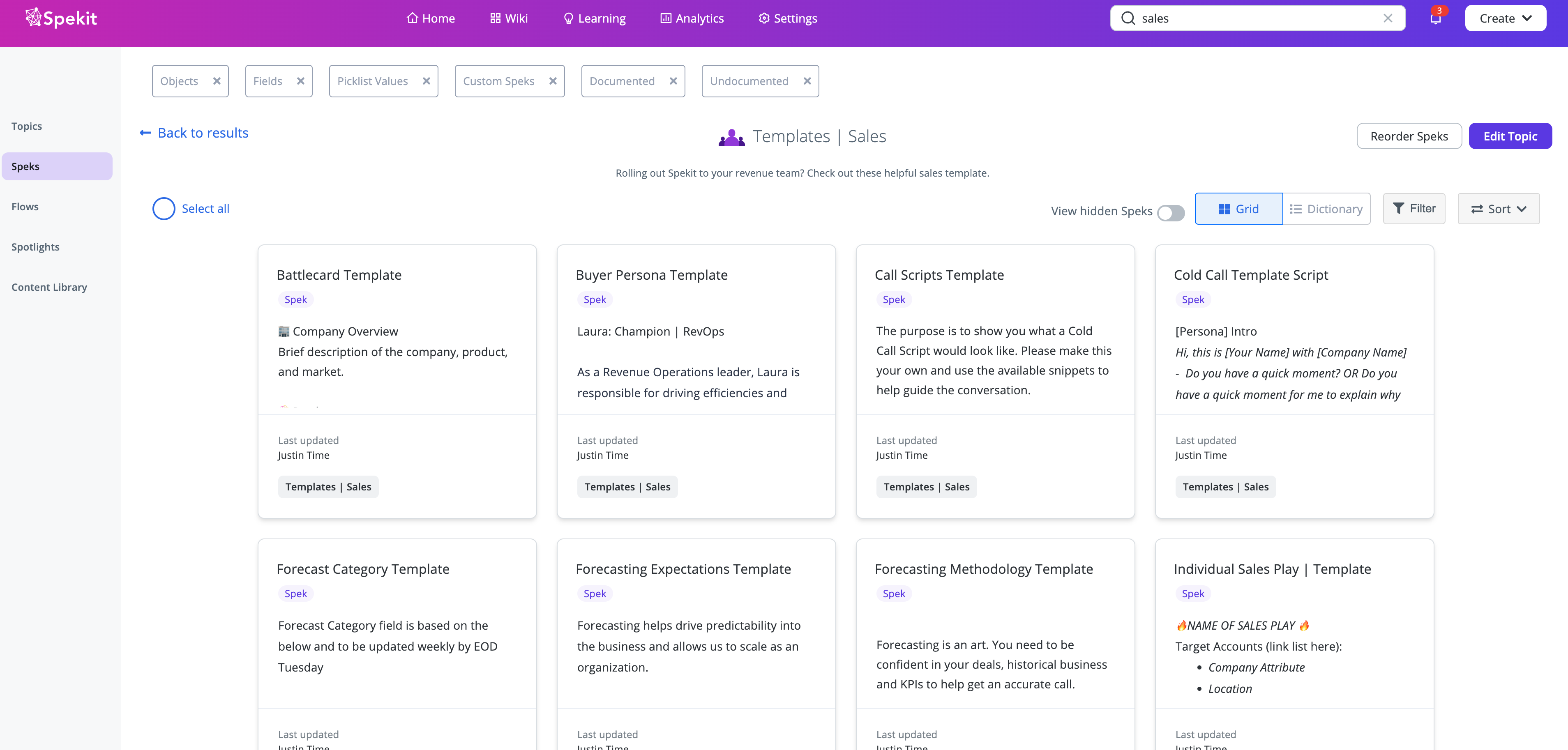 Bug Fixes
Spotlight Preview Images: We've resolved a bug that prevented Spotlight preview images from matching the final result.