By importing and exporting content into your Spekit account, your content team won't have to start from scratch. Spekit does help you transfer any existing documentation you have. Contact us at support@spekit.co for more information.
How to Import data into Spekit
When importing data to Spekit, you upload a populated excel file into Spekit. You can upload images, videos, files, and links. This will override any existing data. We provide an excel import and export located in the Settings tab on the Spekit Web App.
Here are some important things to note before you choose to upload data:
Make sure to delete any rows that you do not want to override.

Uploading is non-reversible: it will override your data.

Spekit does not currently support SCORM files.
To create or copy Speks:
Make sure to remove all IDs from the ID column.

Remove all data from Expert First Name, Last Name, and ID columns.

Salesforce-specific metadata (read-only information on the field) cannot be updated via import.

Speks are written in HTML. Use existing Speks for examples

Don't change the ID in the far left column.
Note: ONLY Account Admins can import data into Spekit.
To Import Metadata:
1.) Make sure you have the .xls file ready for upload.
2.) Click Upload and override to upload your spreadsheet to Spekit. Select the folder you want to upload and click Open.
3.) To confirm the request, type OVERRIDE In the text box, click on upload and override my data.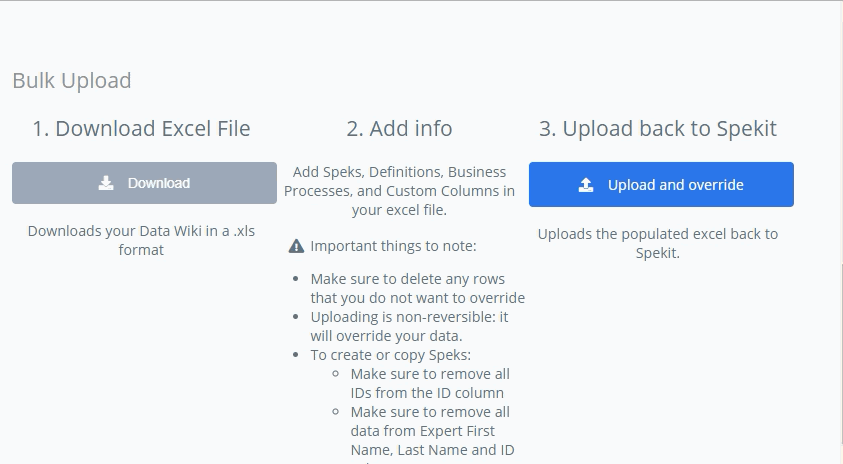 Here's an image of the confirmation box: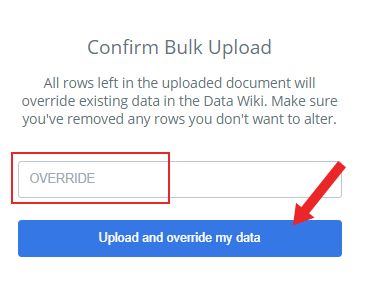 How to Export data in Spekit
When you export your data from Spekit, you are downloading the data in .xls format, including all text, images, files, and links. This functionality is only available to Spekit Account Admins.
To Export Metadata:
1.) Go to https://app.spekit.co/app/settings/customize/bulkUpload or go to Settings -> Admin Tools.
2.) Click on Download.
3.) Enter your Password to authorize the request to download the metadata files.
4.) Click Continue. The file will be downloaded in .xls format.

How to print to PDF
Print to PDF is beneficial when you prefer to provide employees with a hard copy to refer to or save to their desktops. This will provide you with a printable PDF format of the selected Speks.
1.) In the Dictionary/ Wiki, select one or more terms you want to print.
2.) Click on the Bulk Actions and Print to PDF from the drop-down menu.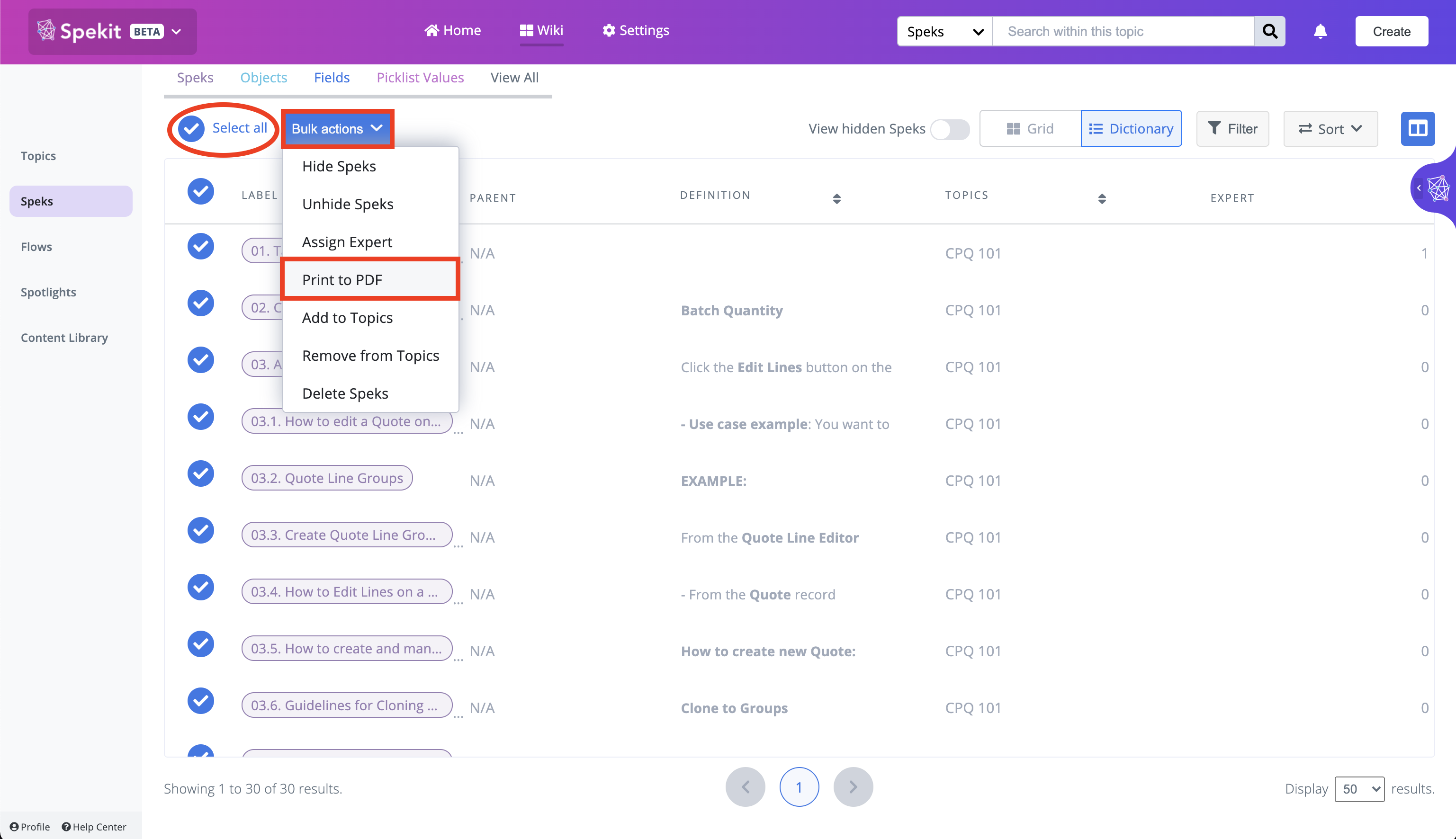 Note: If you are an Expert or Admin in Spekit, more options will be available in the bulk actions menu.
3.) You can choose to Print summary sections only or Print everything.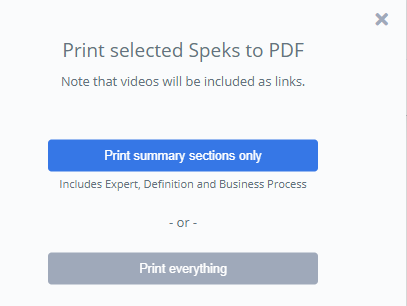 4.) Clicking on one of the print options mentioned above will redirect you to a page showing the PDF view of the selected Speks, as shown below.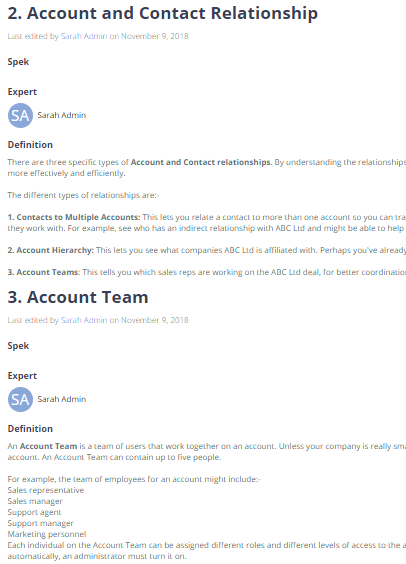 5.) On this browser window, click on the hamburger menu (3 vertical dots) and select Print
OR click Ctrl+P to print the PDF document.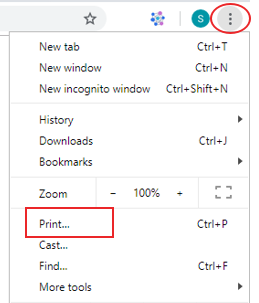 6.) You will see a pop-up window showing you the preview of this document.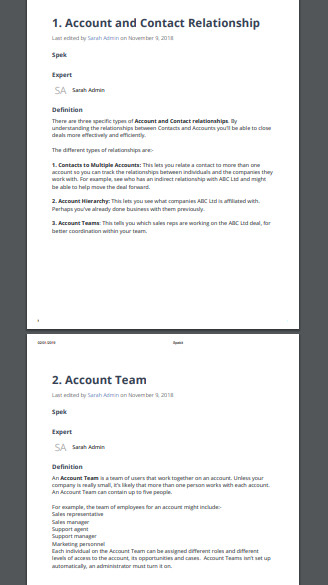 7.) Click Print. You can optionally choose to change the destination of this document and save it to your desktop instead of printing a hard copy.